Harper's Bazaar Latin America Names Leslie Top Ten Jewelry Designer
We are so excited to announce that Harper's Bazaar Latin America just named Leslie as a Top Ten jewelry designer!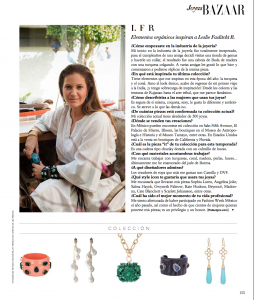 Here is an English translation of the Harper's Bazaar interview:
How did you start in the jewelry industry?
My start in the jewelry industry was totally unexpected. For a friend's birthday present, I decided to visit a store of gems and make a necklace. The result was a wooden Buddha head with a turquoise hanging. A few friends liked what I did and began asking me for similar pieces.
What inspired your latest collection?
It has elements that inspire me because of the time of year: turquoise and coral. I also love an ethnic look, and since I just returned from my first trip to India I have inspiration overload! I think the colors and textures of Rajasthan to tribal art are fantastic!
How would you describe women wearing your jewelry?
These women are confident, flirty, sexy, and authentic. They dare to do and wear what others do not.
How many pieces is made your current collection?
My current collection has about 300 jewels.
Where can I buy your creations?
In Mexico, you can find my collection at Saks Fifth Avenue, El Palacio de Hierro, Bloom, boutiques at the Museum of Anthropology and History and the Tamayo Museum, among others. In the United States, LFR Designs jewelry is available in boutiques in California and Florida.
What is the piece "it" in your collection for this season?
It's a chunky gold chain with pendants of horn.
What materials used to it work?
I love working with turquoise, coral, wood, beads, bone … lately I've fallen for Burmese Jade.
What designers do you admire?
I really like the designers Camilla and DVF.
Which style icon would you love to wear your jewelry?
I would love for Sophia Loren, Angelina Jolie, Salma Hayek, Gwyneth Paltrow, Kate Hudson, Beyonce, Madonna, Cate Blanchett and Scarlett Johansson, among others, to wear my pieces.
What has been the best moment of your career?
I feel fortunate to have participated in Mercedes Benz Fashion Week Mexico last year, and I am humbled by the fact that hundreds of women want to wear my pieces. It is a privilege and an honor.